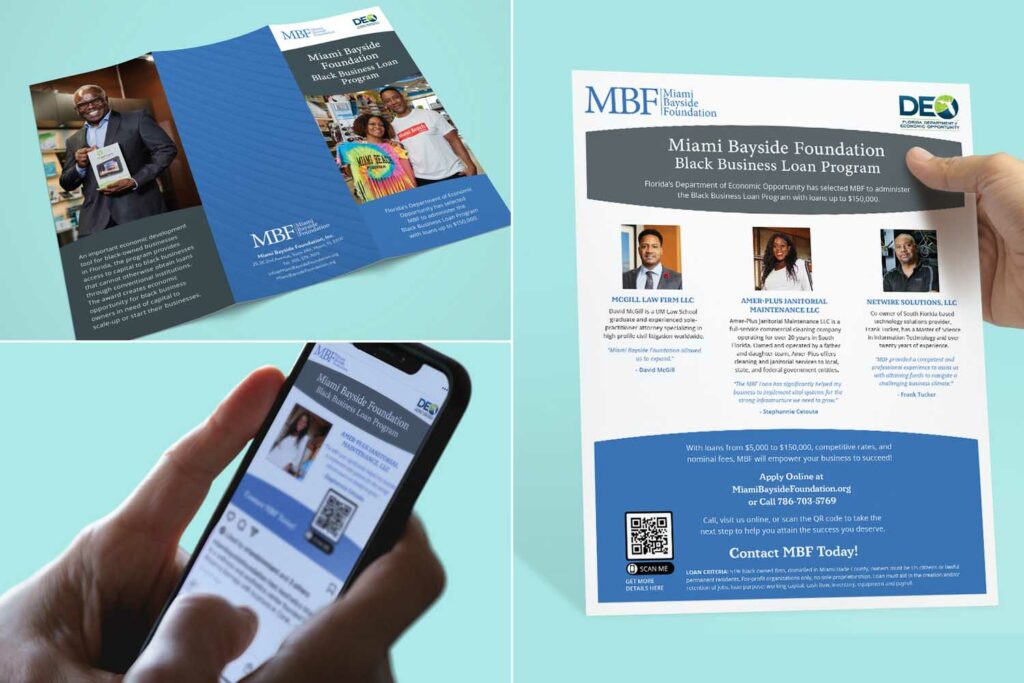 Digital Marketing Kit Jumpstarts State's Black Business Loan Program

SITUATION
The Florida Department of Economic Opportunity selected the Miami Bayside Foundation (MBF) to administer its Black Business Loan Program. Miami Bayside had to quickly initiate a pilot rollout. When Miami Bayside contacted local municipalities and organizations, they asked for help to immediately disseminate this information.
PROCESS
MBF turned to Zilveti Communications for ideas, starting with a rush order flyer. We
suggested a Digital Marketing Kit to empower organizations to greatly amplify their outreach to potential entrepreneurs and existing businesses. MBF approved our Creative Brief for a press release, tri-fold brochure, flyer, email, slide deck and social media components. Our copywriter and designer collaborated to produce the kit, using photos of businesses that Miami Bayside had helped in the past, with quotes highlighting how important these loans had been for their businesses.
RESULTS
In less than 2 weeks, we had delivered the flyer and in less than 30 days, we had sent all the Digital Marketing Kit materials to Miami Bayside and printed and delivered 5,000 brochures. MBF was so pleased with the results, they asked us to redesign their core marketing brochure. As a further benefit, we helped the foundation reduce its production costs by designing the flyer so it could be printed in-house.

"Zilveti Communications was responsive, timely, organized, professional, and an absolute pleasure to work with. Macarena and her team provided us with quality results and materials that we will be able to use to advance our organizational goals. Her work exceeded our expectations, and we look forward to working with Macarena and Zilveti Communications on future projects."
— Kathleen Murphy, Executive Director, Miami Bayside Foundation